In the United States, healthcare is one of the most competitive industries. The healthcare business currently accounts for more than 17 percent of the country's gross domestic product, thanks to year-on-year increase. Healthcare spending in the United States surged to $3.8 trillion in 2019, according to government figures. Thousands of brands are vying for a piece of that money. In such a competitive business, it can be difficult for B2B healthcare marketers to gain momentum and attention. B2B healthcare marketing can now focus on inviting quality consumers to find them without having to attend costly expos and tradeshows due to contemporary digital marketing solutions. There are certain new trends that have shown to provide better leads and a higher return on investment.
What is B2B Healthcare Marketing?
A business providing a healthcare product or service to another business is referred to as B2B healthcare marketing. A pharmaceutical business, for example, might sell a new MRI machine to a doctor's office, or a medical equipment supply company would sell a new MRI machine to a hospital. Because of the industry's development and problems, B2B healthcare marketing is unique. Brands are vying for attention not only to promote their products, but also to inform customers about innovative technological solutions.
Importance of Healthcare Marketing
It's not enough to have a game-changing medical product, an award-winning medical staff, or a cutting-edge SaaS platform. Your offering may fail to reach and capture the interest of decision-makers at any point of the buyer's journey, whether patients, sponsors, researchers, or executives, if you don't use healthcare marketing. Traditional channels for healthcare marketing success have also been limited or effectively removed as a result of the COVID-19 pandemic.
Trade exhibitions and conferences in the industry have been cancelled or transferred online, and in-person interactions have been consigned to uncommon, special occasions. Salespeople have been required to acquire virtual selling techniques, while marketers have been tasked with bringing in more qualified leads to assist fill pipelines. A great online experience and a strategic marketing plan are essential tools for healthcare organizations to stay competitive in any market.
When a result, it's critical that you stay current with B2B healthcare marketing trends and remain open to trying new things so you know exactly how to position your products and services as customer and end-user needs shift. With the year 2022 approaching soon, now is the time to assess your existing efforts and examine what your competitors are doing to stay afloat. We'll provide you six keys to increasing your healthcare market share in this blog post:
The capacity to better understand and serve your customers is one of the most significant benefits of digital marketing. Because of data, this is feasible. There is good data to tell you where your clients are, what their needs are, and what they are looking for. Knowing these data allows you to produce content that meets their needs and give it to them where they are already.
Data can assist you in transforming generic ads into targeted, smart digital advertising initiatives. If your marketing strategy is centered on quantity, it's time to think about quality. Focusing on targeting will result in more qualified leads. Account-Based Marketing is the best example of this type of targeting (ABM). ABM requires collaboration between marketing and sales in order to identify a group of high-value accounts. After that, you tailor your content and marketing strategy to those particular accounts. According to HubSpot statistics, 92 percent of B2B marketers now have an ABM programme.
Healthcare professionals use the internet to look for products, services, and vendors in the same way that you may look for a restaurant near you on Google. According to a recent study, more than half of hospital managers conducted their own product research online. Buyers are researching product features, discovering vendors, and comparing products when shopping online.
B2B healthcare marketers must generate content to fulfil those Google queries as more buyers turn to the internet for knowledge. Marketers have their own digital research tools to help them figure out what potential clients are looking for so they can adjust content accordingly. A solid search engine optimization (SEO) plan includes these. SEO can assist you in appearing at the top of search results, ensuring that your clients find you before your competitors.
Build A Responsive Healthcare Website
A responsive website adjusts to the size of the screen it's being seen on, so the experience is the same whether you're using a computer, tablet, phone, or other mobile device. It's the standard in website design today [FYI: Google has committed to a mobile-first index for all websites, including healthcare websites, starting in September 2020]–but it's also something search engines check for when crawling any medical website to decide how and where you'll rank.
Google values user experience and will give preference to competitors that have mobile-friendly websites. In general, responsive webpages are the ideal choice for mobile digital healthcare. Even if you already have a responsive website, make sure that your information and pictures are loading properly (and quickly!) on mobile devices.
Too many hospitals and medical offices rely heavily on organic social media for their digital healthcare marketing strategy. Organic social media refers to posting images, updates, events, and other content directly to Facebook, Twitter, or YouTube, and it's a viable technique for growing your brand and informing patients about new developments.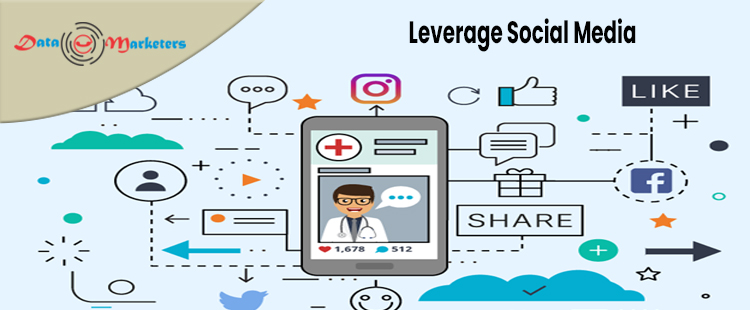 However, it should not be your sole social strategy. Paid social media advertising, even if you're not already connected, is a better way to reach the relevant people who might be looking for your services. Let's face it: unless they're already associated with, or better yet, employed by, a local healthcare organization, only a small fraction of people share their posts on social media.
Regardless of how well you manage your lists, your email campaigns will be useless if your messages don't add value. Instead of pitching your products or services, utilize email marketing in healthcare to deliver information and content that your readers will find useful. If you're a tax consultant who specializes in the healthcare industry, for example, you might write a blog with industry-specific tax-preparation advice and send it out in your e-newsletter before tax season. Of course, you can use the newsletter's arrangement to sell your services, but this will only work if the information you present before pushing your services is relevant to readers.
For example, a healthcare attorney may provide a written advisory on new regulations that may affect their clients, as well as advice on how to limit liability. The newsletter may serve as a spark for clients to contact you if they desire extra information or have follow-up questions.
Consumers will not purchase items or services from companies they do not know or trust. Consumers will not choose a hospital or care team they are unfamiliar with. Building a strong brand and raising brand awareness can help you lower your overall cost-per-acquisition, so make sure you budget for it.
Consider what makes your health system special, as well as what attracts customers. Is this a high-quality service? Staff that cares? Is this cutting-edge tech? Is there a high level of trust? Create marketing initiatives to raise awareness and promote your brand by focusing on one key aspect that draws patients. One of the most efficient strategies to develop a trustworthy brand image is to promote your hard-won quality achievements.
When compared to other industries, healthcare marketing can be challenging; but, if done correctly, it can yield far more rewards than you might imagine. So, in this post, we've shown you how B2B is employed in the healthcare industry and 6 keys to increase your healthcare market share. Share with us if you're still unsure where to begin or need assistance personalizing techniques to your target audience. We enjoy learning about new businesses and exploring the most effective approaches to obtain a greater audience.