Facebook is one of the most popular communication and interaction platforms on the internet. As a marketer, you may develop your own business page and engage with potential consumers and followers. The typical types of posts are quality content, video posts, and the conventional organic post. Aside from that, Facebook allows you to pay to market your products or services. Keywords, interest signals, demographic data, and other methods can be used to target a certain audience. You may also create a custom target audience on Facebook to retarget people who have already visited your website or app.
However, there are still a variety of techniques to capture your target audience's attention and communicate your message. All you'll need are a few simple approaches, such as creating a variety of content genres and publishing very short videos. By embracing a new approach, you can ensure that your Facebook marketing efforts are just as viable in the coming year. We'll go through five Facebook tips that are currently working well in this article. We'll go through how to get started with them as well. Let's get this party started!
• Post Original and Fresh Content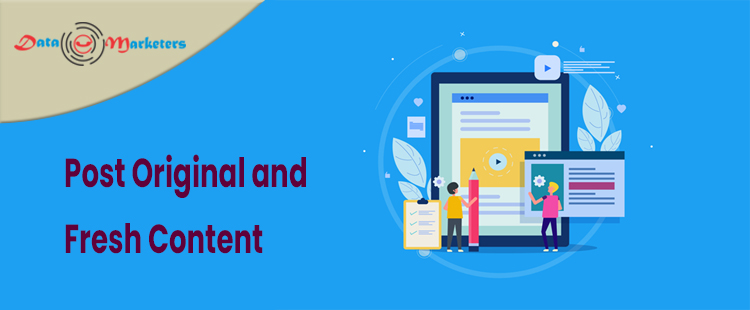 Everyone understands that content is king. If you have a company page or group, share original and new material. Make absolutely sure your content provides genuine value to your audience. Provide useful information to your audience, make them laugh, or inspire them by sharing something inspirational. Update your status on a regular basis so that your audience becomes familiar with your brand and product line. The world's most popular social media platform wants its members to manage their companies entirely within Facebook. As a result, any modifications in new products or services you provide should be communicated to your customers.
To boost organic reach for your post, don't forget to include keywords or hashtags in each post, as well as an accurate description of each position. Using a location-based post, optimize your Facebook posts that focus on local awareness. Make it a habit to routinely generate and share fresh, engaging, and relevant material. Use more visual content (videos and photographs) in your posts to enhance engagement, sharing, and visibility on Facebook. Uploading high-quality movies will aid in the development of a professional image for your company.
• Know How to Make a Post Go Viral
More reach and engagement on your business page, group, or profile can be achieved by posting something viral. While there is no magic formula for making a post that will 'go viral' or garner a lot of attention, there are some factors that will help. It will supply you with no less than excellent results if you can write a post that people share with their friends and family.
To make your post promo viral and gain new followers for any business, utilize a captivating idea such as a hilarious image or an interesting video. It's especially effective if you use this strategy around holidays, national events, or shortly after making major announcements like discounts or new products. The best thing about high-engagement posts is that they allow you to gain new clients for no cost. Also, you can observe that your engagement rate will be higher than usual, as well as your follower growth rate, both of which will help you expand your Facebook reach.
• Add a CTA to All of Your Posts
Another effective way to enhance interaction on your business page is to include a CTA or "call-to-action" in your postings. This function allows you to highlight a certain button to direct all followers' attention to that link or offer. According to a Facebook statement, CTAs can help businesses increase overall post reach by 22%, with favorable results on other metrics.
As a result, including call-to-action buttons will help you attract more attention from existing and new followers as they see what they should do next, which will bring them to your website or wherever else you want them to go. Make sure that your CTA or call-to-action buttons aren't too invasive so that users aren't upset instead of being directed to the action that your business wants them to take.
• Use Facebook Pixel Technology
The Facebook Pixel is a piece of code that you can embed in your website or app to track user behavior and serve targeted adverts through your Facebook business page. It allows you to create bespoke audiences for retargeting people who have previously visited your website.
Understanding how Facebook Pixel technology can measure customer behavior on your business page is critical for social media marketers. You can also retarget those who have already visited your website to enhance your brand's likes and engagement. It's one of the most effective Facebook marketing tactics for growing your business and increasing sales and earnings.
• Update Your Business Page Template
It's essential to have the proper kind of business profile on Facebook if you want to get the most out of it. It's no longer sufficient to just open a company account and begin posting. You'll also want to optimize your account properly. Facebook does, in fact, provide a number of templates for company pages. These templates have a number of elements that are intended to assist marketers in showcasing material in a way that is consistent with their company objectives. They will also rank the most important information about your company automatically.
A charity page, for example, might place a strong emphasis on a 'donate' button or a link to an external fundraising. For businesses, e-commerce stores, nonprofits, politicians, services, restaurants, venues, and more, there are several templates accessible. Simply go to the Page Settings tab of your Facebook business profile to use this feature. You'll be able to choose the template that best suits your company's demands, as well as fully personalize it.
Despite the fact that several other social media platforms have reached the market, Facebook remains the undisputed leader. You can build a seamless brand experience for your customers and expand your business to the next level by leveraging its existing and planned capabilities.
The Facebook marketing tips listed above will greatly assist you in increasing engagement on your business page, as well as sales and money for your company. So don't forget to try out these advanced tactics in the near future for better and more productive outcomes, and let us know how it goes or if you need assistance.