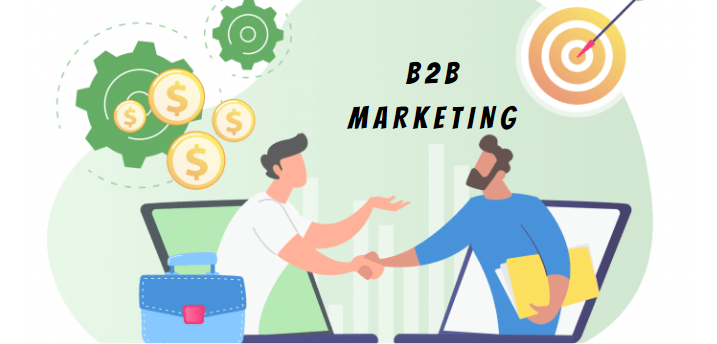 "We are changing the world with technology". Internet has brought tremendous change in the way we think, we learn & act – so is B2B marketing & strategy. By embracing the digital transformation of every business in the 21st century you can't afford boring or outdated marketing strategy to stay ahead of competitors.
Let us change the way we frame marketing strategies to connect with business audience & gain benefit out of it. Developing right marketing strategy is can be challenging considering several factors such as budget limits, key decision & approvals. However, opting B2B digital transformation with effective B2B strategies helps you to stand out of crowd with flying colours. The Ultimate marketing goal is to make audience responds & engage with your products & services. Hence it is very critical to analyze how marketing to a business varies from individual consumers. This article gives crystal idea of effective B2B marketing strategies work & converts your business audience.

What is B2B marketing?
From a layman's point of view, any company that sells products or services to other business or organization highly uses B2B marketing strategies & the marketing content is geared towards particular business or organization is often referred as B2B marketing.
B2B marketing targets the needs, likes, interest & challenges of individuals who purchase on behalf of or for their customer. Here we discuss about various B2B marketing tactics what will boost your B2B strategies.
B2B Email Marketing
Email communication is the best & proven methods of connecting with individuals & customers. Email is a most powerful & effective way for engaging your target audience & turns your subscribers into leads & then customers. B2B customers always look for logic & drive positive ROI. It mainly focuses on your business, customers & connects the thing which matters to them such as time, money, resources.
As research from Hubspot, shows 83% of B2B companies use email newsletters as a part of their content marketing strategy. And 40% of the B2B marketers agree newsletters plays a crucial role in their content marketing success.
Here are few best practices of email marketing best practices:
• Send emails with strong subject line
Hook your audience with an enticing subject line & connect with them.
• Include CTA (Call To Action)
Having one CTA per mail allows consumers on one email content & one action
• Responsive Email Design
In the Internet era, 80% of the email users access their inbox on mobile. So high responsive design shows up & engages customers.
• Segment your email to reach most relevant audience
Buyers can look for different solutions; hence having email list segmentation helps you to relate with target audience in a better way & feel connected.
Creating Digital Presence
Every company started to invest in their digital presence & 5% of their revenue will be invested for digital presence & branding which comprises of paid ads, SEO (Search Engine Optimization), website & more. Here are a few tips to build effective B2B marketing for digital presence.
Any small or large scale business should have their own website which defines your target audience & helps your B2B marketers to understand different buyer persona. This helps to ensure right demographic information to connect with right audience through content & new marketing initiatives.
Create your own digital space
With proper on Page SEO & Technical SEO tactics your website must be well optimized & informative.
Pay per click (PPC) advertising allows your brand to connect with new audiences via search engines. By understanding buyer's persona & incorporating content highly recommended for them you can generate ROI to promote your products & services across the globe.
Enforcing Niche Driven Strategy
One of the most critical business considerations is specializing & targetinga particular niche. We're in the era to understand the fast growing firms & be the undisputable leader. Specialization makes you to understand what is required & how you can define yourself.
Social Media Strategy
Social media is one of the most popular & important strategy to stay connected with customer 24*7. Facebook & LinkedIn rated as one of the most popular platforms to deliver better ROI in an organic way.
Social media curates a positive impact on your brand & stays as one of the best distribution channels to share your original content. Highlight your activities & spot light your employees, which allow your audiences to personalize & develop a distinguished brand voice.
Different Social Media Channels That We Can Use For B2B Marketing
Well planned strategy is a key ingredient for any social media marketing. It includes Facebook marketing, Instagram marketing, Twitter marketing, LinkedIn marketing & more. Having a relevant & realistic social media marketing goals paves way to understand your target audience. Social media goals should be SMART (Specific, Measurable,Attainable,Relevant & Time Bound).
Facebook Marketing:
It is well known fact that Facebook is one the biggest social media platform with a huge fan base.(Approx. 2.4 billion people use it every day). A report from Hootsuite says two third of Facebook users visit their local business Facebook page at least once a week. A clear & focused Facebook marketing is the smart way to tap into existing customer & gain new followers easily.  Here are few steps to start with Facebook marketing:
Set up your own Facebook account
Head to Facebook & create your personal account for your business. Choose the page type such as business, brand, community or public figure.
Have a profile & cover photos to make sure the optimum images size as prescribed by Facebook.
Complete your page information
Describe about yourself in 255 characters about what you want to do & who you are. Make sure all your contact details are updated & customer can reach you through any communication medium
Create your Facebook URL(Vanity URL @Username)
Choose a search friendly page name, which can be 50 characters long. Having a consistent name across all social media networks creates a brand identity.
Review your Facebook Setting
Understand your Facebook privacy & security setting to know about custom control available on your page.
There are different ways of promoting your brand such as text post, video post, image post, live video post, FB poll post, Facebook stories, Pined post & more. Social media platform has huge & targeted audience base, hence post must be chosen accordingly. It should engage all kinds of users & keep them updated about your business or brand over regular interval of time.
Twitter Marketing:
Ultimate goal of the twitter marketing strategy is to attract new followers & leads to boost your conversion with improved brand recognition & sales.
Twitter Marketing Tactics include:
Research your target audience
Create unique & engaging content within 140 characters
Have a organized schedule for your post
Analyze your impact & focus of gaining trust among followers
Instagram Marketing
Instagram is one the important social media channel which gained more attraction among marketers in recent days. Undeniably, we can 90% of the Instagram users follow at least one business. Here are key tactics for using Instagram for business
People love stories. And creating & posting regular stories about business is a great way to connect with your audience.
As well love most engaging content on our feed. Instagram is full of images & videos which make a great success when it comes to marketing. It is proven fact that visual post produces 650% high engagement hat text only post.
Instagram has a huge community base, hence B2B marketers got a millions of opportunities to connect with a targeted audience without any geographical barriers.
YouTube Marketing
YouTube gives us more entertaining content & B2B marketers claim that it is one the essential tool for marketers to stay connected in the marketing race. YouTube content is recognised & preferred as second largest search engine.
Create your own YouTube Channel for brand or business
Learn about your audience
Learn from your Favourite channels
Optimize your videos to get good views
Optimize your title & keywords with proper hashtags
Create a strong thumbnail
Always have keyword rich description
Schedule & upload your videos
Integrated Channels
There are several effective channels to maximize your lead database. It includes content marketing, email marketing, social medical marketing, SEO& paid ads, webinars & corporate events.
It is understood that best strategies work well if it is integrated & strengthen your relationship. These types of integration channel marketing fuels powerful interaction between your audience & brand. 
Marketing Automation with CRM
Replace your mundane task with high touch automated one with a technology solution. Having a centralized system for creating, managing & measuring campaigns are essential for any B2B marketing campaign. CRM is helps any firms to track & organize right opportunities in a sophisticated way. Similarly CRM database acts a repository to collect & all relevant prospect information & help you to develop effective business communication with key decision makers.Advent of marketing automation tools helps B2B marketers to establish personalized communication with prospect & reduce repetitive & mundane task.
Let's see how Marketing Automation Tools Can Boost Your B2B Marketing Strategy
In recent times, Automation tool helps B2B marketer in accessing all enterprise level data in one place and enable marketers can launch multi-channel campaigns in an effective manner. Tools such as Marketo, Eloqua, and Hubspot can automate mundane tasks such as email marketing, social media posting, ad campaigns & etc.  This marketing automation makes the task easier & provides personalized experience for the customer. If you are generating a steady flow of new & quality leads then investing in a marketing automation tool generates better ROI.
Marketo manages end to end customer experience from a marketing point of perspective.  From digital advertising to account based marketing Marketo tool is really useful & well suited for larger marketing operation. With integrated sales applications Marketo aligns sales & marketing your efforts with high priority accounts by tapping into better visibility & customer insights.
Want to create dynamic B2B campaigns that to understand buyer persona & track real time activities at every stage from prospect to customer journey, then Oracle Eloqua is well suited for your marketing activities.  Eloqua gives the historical data which help marketers to schedule email at an optimal time & day for a preferred prospects.
HubSpot is one of the most popular and widely used Customer Relationship Management software. It helps user in expediting sales and marketing flow on the go without making many changes to the existing structures. Aligning your marketing efforts with HubSpot CRM can increase your web traffic while improving sales conversions.
Lead Nurturing& Lead Scoring
With targeted & analytics driven email marketing campaign understand the buyers persona & send offer to required set of targeted audience. This helps any B2B marketers in building closure engagement, relevant content & drive sales out of it.
Lead Scoring is one of the methodologies used to rank prospect based on a value that particular lead represents to the organization. It depends on various numeric value assigned to user behavior, conversion events or social media interactions. Any lead nurturing strategies are successful if sales & marketing are aligned together.
Visual Content
"A Picture speaks a thousand words"-   Visual contents from images to video will help promote your brand & adds value to your marketing efforts.  Internet has helped marketers to build trust & engage with the audience more often compared to traditional modes marketing strategies.  All credits to visual content makers as they suggest using compelling images for brands across all platforms. 
Online communities
Identify online communities or create a space for your customers to make their conversation. There are multiple options ranging from LinkedIn Groups, Quora & Facebook. Provoke with your questions & try to understand your customers in a better way.  Create your own online forum where customers can share their feedback & opinions. This helps to create trusted database of information which has complete details of potential customers.
Mobile Marketing
It is well fact that mobile drives the 80% of global internet usage. This statistics show how mobile marketing has become of the must have or trusted marketing strategy for B2B business. As a part of mobile marketing makes sure your website is well optimized for mobile. Before thinking of any mobile marketing ask yourself if you've answer for below question.
Is my content is friendly for all mobile/tablet devices
Is buttons & navigations are easy to tap
Does infographics, images, videos are easy to ready or view
Interactive Newsletters
Although email marketing is one of the best strategies for business, most of the professionals still prefer to use interactive newsletters. Brand should hook their customers with content in the form of monthly newsletters, blog newsletters & more. Interactive newsletters can include video downloads, surveys, Feedback requests, white paper downloads & more.
Referral Programs
Happy customers always spread the word about your brand. Initiate a discount program & allow your customers to know the benefits of spreading a word to fellow business owners about your products or services.
Paid Ads
There are wide marketing options to establish a brand name for your business.  Paid advertisement & campaigns are one of the important aspects of B2B marketing strategies. There are most popular ads linked with search engines such as Google, Facebook, Twitter & more. All these platforms, make sure your message reach right audience without any geographical barriers. And more importantly paid ads helps to drive highly engaged prospects interested in your products or services.
Niche Targeting
No More general audience. Improve your engagement rate with a more specific message to right audience & drill down to the specific niche you want to reach. It creates messages focused on your segment & ultimately you can connect with loyal customers interested in your products or services.
Live chat Conversion
Almost 95% of the customers are satisfied with their live chat experience & addressing the customer issues through their preferred mode of communication channel. With very little efforts live chat function can be one of the most productive sales channels. And it is one the very friendly medium where you can connect with customers & sell your products in a hassle free manner.
Influencer marketing or Guest posting
Though they belong to different discipline the common motto is to leverage the authority of a third party to promote your brand or product. With the help of external platform you grow your business with website, events or social account. And is it proved that ROI generated through influencer marketing is high when compared to other channels.
Event Marketing
Event marketing focuses on forming relationship & offering values with business owners & prospects who can be potentially your customer. Many business owners started event marketing as a part of promotional efforts to deliver greater ROI.  Event marketing includes one day conferences, one day seminars, product training sessions, leadership workshops &more.
Bottom Line
Partner with Data Marketers Group to have a formal b2b marketing plan & create your own brand identity.  We have a team of experts to make strategic & proactive approach to tactics. For small to medium sized business, we offer entire marketing plans with market research analysis to create your own brand identity in the fast moving internet era. Also, we can help you to align & build your market presence with current trends &stay one step ahead of your competitors.