We all are in the era of 21st century where our requirements keep on growing & reflect the consumer markets & sales professionals. We must accept B2B landscape is continuously evolving over the time & it is important for the B2B marketers to adapt to the customer centric market any day. This could be achieved by Market Segmentation.
In earlier days, B2B marketers faced a lot of struggle in finding reliable target information about prospects & most importantly it was not freely available. But today, with comprehensive B2B database you can access detailed information, deliver personalized messages & plan B2B campaigns. Customer centric digital market is available to develop a buyer's journey effective & engaging.             
"Market Segmentation is a natural result of the vast difference among the people."- Donald A Norman
What is Market Segmentation?
Market segmentation is one of the strategies which involve the process of dividing your data into further sub groups based on shared characteristics, traits, facts or actions. In simple when you get a right customer, you show them content that they are excited about it. Here sub groups are classified based on the insights & highly focused on delivering personalized experience for prospects.
Why B2B Market Segmentation is important?
Without proper b2b market segmentation you're missing the potential clients who should be given first priority. Here are the benefits of market segmentation:
Improves Overall Business Focus
Boosts Revenue
Helps To Achieve Annual Marketing Goals
Nurtures Product Development
Improves Campaign Performance
Expands Your Market Reach
Improves Brand Identity
Identifying New Market Streams
Understanding Current Customers
So here comes the big question what are types of Market Segmentation?
Below mentioned are widely used marketing segmentation which is accepted by huge audience base as well.
Demographic Segmentation
Firmographic Segmentation
Geographic Segmentation
Behavioural Segmentation
Psychographic Segmentation
Need based segmentation
Transactional Based Segmentation
Demographic Segmentation:
Demographic segmentation is the first & foremost step in creating customer profiles that helps marketers toproject top most products & close deals effectively. It is the process of dividing your market into a segment, based on factors like ethnicity, age, gender, income, religion, education & more as shown in the below figure. This is highly useful is targeting people who are likely to care about your products & services. And more importantly, brands can spend their advertising & market budget friendly.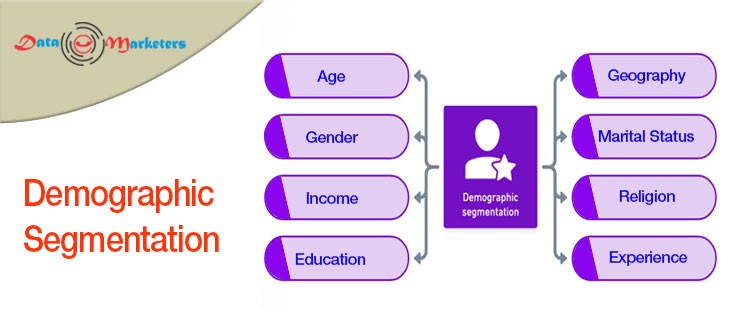 There are multiple demographic segmentation factors that can be picked as per the type of customers you have.
Ex A fashion brand would care about people gender & age, while a software company care about profit & income.
Demographic segmentation can be put to best use when your products or services are developed for different type's market & itsatisfies the growing needs of the changing customers.
Benefits of Demographic Segmentation:
Better understanding of target audience
To group audience based on key factors
Business can determine the area to expand its functionality
Types of data used to determined demographic segmentation:
Age
Gender
Income
Education
Geography
Marital Status
Religion
Experience
And more
Firmographic Segmentation:
Based on the shared company attributes business to business customers can be classified and it is often referred as Firmographic segmentation. Such prospects have same organizational attributes. They are generally used to guide marketing, advertising, & sales for deeper insights & effective campaign management activities.
There are key variable that constitutes to the Firmographic segmentation, they are
Industry
Location
Company size
Status
Performance
Executive Title
Sales cycle stage
Key Benefits:
Enhancing Sales & Marketing Efficiency
Improve the revenue with larger base
Campaign optimization with priority leads
Reveal actual business insights
Boost Marketing ROI
If business divides the market on the basis of their location or geography, then it is referred as geographic segmentation. In simple, when you have a broad range of target audience & they are targeted based on the area where they are located you can call it as geographic segmentation.
For ex: A Hot beverages goes well in cold regions or countries that highly prone snowfall for the most the years.
Key factors used to determine the geographic segmentation:
Continent
County
Region
City
District
SIC/NAICS Code
Psychographic Segmentation:
If a market segment divides customer based on psychological characteristic which includes conscious & subconscious beliefs, motivation, personality traits, predicted behaviour of customer then we can call it as Psychographic segmentation. This helps marketers to empower & understand more about unarticulated needs & expectation of the customer or prospect. This segmentation builds relationship with customers by understanding them more of individual with personal values.
Though Firmographic & psychographic segmentation is highly focused on customer, based on their behaviour you can segment prospect on how they react. For example, you can track the details of what they purchased, timing, customer loyalty, engagement, satisfaction & more as shown in the below figure. Based on B2B campaign, prospects can be segmented how they react.
Benefits of using Behaviour segmentation:
Improves targeting efficiency
Gives better personalized experience
Able to shift focus from uninterested to interested prospects
Able to track insights
Helps to build brand loyalty
When you want to address particular group of people & their request, then it can be classified as Needs based segmentation. Customer sophistication is one the key factor that groups your audience base. So this this provides opportunities to tailor your audience needs with specific goal instead of splitting customers based on Firmographic or demographic information. This segmentation must have clean & enriched data as they can be approached as and when required.
Need based segmentation can be done in four categories which includes functional needs, problem solving needs & emotional needs. It is highly useful for tailoring your upcoming needs & support for new business initiation & product developments. This model works pretty well & helps to target different sets of prospects. And more importantly as current B2B prefers need based segments than others.
Transactional Based Segmentation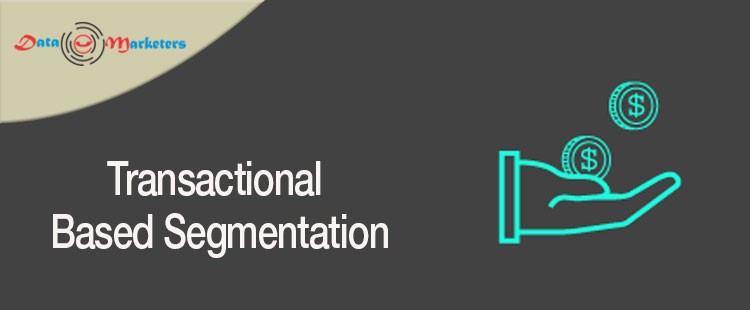 This is highly useful to study about a customer based on their past transactions. Here organization or customer should spend time in analyzing patterns& group them based on business goals. This mainly used for strategizing planning, prioritizing marketing activity, forecast sales & returns.
Segmenting by decision maker Type & their Organization:
If you are highly focused towards messaging & communication strategy, then opting for segmentation by decision maker type is highly recommended. As a B2B marketer your communication must start with individuals at organization. This is the main reason why sales & marketing team tend to focus on individual level data. This gives a crystal clear idea of how easily you can network with executive professionals.
How to segment & what are best practices available?
When it comes to segmentation there are few basic principles & best practices that need to be carried out.
Flexibility is the first & foremost feature to adapt the changing needs as customer base grows.
As the market segment is developed, internal stockholder must be ready to accept the change & feel good as a part of migration.
Make good use of existing data as they are considered to primary source even there may be a future plan to conduct quantitative & qualitative surveys.
Segmentation is not about customers, even leads & prospects can be segmented under the market they fall. Later this can be used to roll out niche based campaigns.
With the right mix of quantitative & qualitative research, deep understanding of customer needs can be figured out with robust validation.
With the growing competition in B2B market, it is important for business to remember not all prospects & customer in your database are equal. Segmentation helps to shift focus from low performing areas to high performing areas with right statistics & details to improve revenue stream which is crucial for business. Hence, your B2B marketing should be planned with a clear strategy that completely depends on your business objectives & industry you're residing & industry you want to explore. Always market segmentation keeps you ahead of your competitors in collaborating with customer in the ever changing market.