"Lead generation is a fairly core activity to marketing"- Chris Brogan
Leads are crucial fuel that keeps up your business.  Lead generation uplifts your business sales & improves revenue stream. With engaging website, the chance of turning lead into customer is an easy job. With qualified lead,time, money & efforts are saved.  Be it a small start-up business or big multi-million dollar business, well established process for lead generation is highly recommended.  Insurance is one of such industry which requires high quality leads in order to promote their products & services. And being life insurance agent is really really tough without leads. Though acquiring leads is not challenging, it is accepted widely that the insurance market is saturated. Competition for one quality lead in the insurance industry is more when compared other industry vertical.
A lead is any person who shows interest in a company's product or service. A lead can fall into your sales cycle through various sources such as website, direct call, email or word of mouth. So leads are accepted to hear from any business or organization once they open up personal communication regarding their business needs. In a broader sales lifecycle leads plays a crucial role in the transition from visitor to customer.
Getting your prospects before your competitors find them is smart & strategic move for long term business growth. Though there are many methods, here are few best ideas that are used to find life insurance leads.
If you're not convinced with the company provided leads, then you can go to third party sources whose main business sell leads for insurance agents. Usually this is win win approach for insurance agents and third party business as agents require quality leads & such sources love to do the same. It works in the way you provide basic requirements such as Zip Code & how far you are interested in travelling to meet those prospects. So you pay upfront to get those details completely aligned with your business. Similarly, there are many benefits of acquiring leads from third party leads, ability to specify lead attributes such as age, income & more is beneficial when compared to traditional methods used within companies to generate leads.
Some third party companies have exclusive & non-exclusive offers. As the name suggests exclusive offers are like leads sold only to you whilenon-exclusiveleads will be sold to other insurance agents too. One thing that differentiates exclusive from non-exclusive leads is less competition as exclusive leads are more expensive in today's business world.
Benefits of using Third Party leads:
Increased sales
Improve profit ratio
Quality information
Well segmented attributes
Specific to target group of customers
Use LinkedIn To Know Your Prospects:
LinkedIn is one of the powerful platforms to generate leads & drive website effectively. You can target professionals based on job title, industry & more. Before all, you must be aware of how to use LinkedIn&its functionalities smartly to generate leads. Make your profile robust with professional pic & thoughtful summary. Your summary section should give sharp &a rich summary about your professional background. With these details professionals would able to know your accomplished details & niche you belong.
Second most important thing is to network with professionals and groups in LinkedIn to get life insurance leads without any geographical barriers. LinkedIn has many networking groups where professionals from various industries and location meet weekly& monthly basis so socialize & trade marketing strategies. By joining the discussion & contributing the forum activities you can easily get the trust of group members& connect with industry experts.
"Email has an ability to create valuable personal touch with clients"
Email is one of the great ways to reach the people who are interested in your product & service. The whole purpose of the email ad is to get great attention on the action.With the regular changes & updates in the insurance industry, you need to keep going with the latest trends. Email newsletters are one of the excellent opportunities to connect with a prospect that shows interest in your products & services. 
Similarly, you can personalize all email that needs to be sent to specific group & interest as it includes all essential information about your company & services. When you give worthy & useful information to website visitors they will be happy to provide you email id. Primary advantages are you are collecting opt –in permission from users to send product offers & discounts. As per Google Trends for 2021, nearly 105 billion emails are sent each day & expect to reach 246 billion.
Leverage Referrals Schemes:
Referralschemes are one of the every green strategy for lead generation process.Word of mouth plays key role in which enables people & companies all around the world to know more about it but most importantly without your involvement.Won't you try it to understand how it works for your business? This scheme works well as it satisfies both the parties and considered to be one of the best in the marketing strategy for promoting products & services.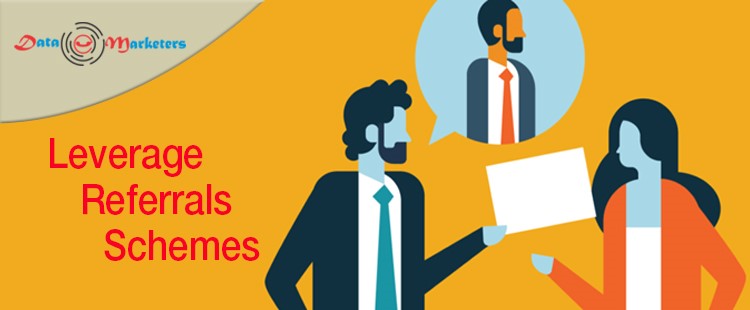 With proper lead management strategy, it is easy to accumulate details of referrals & follow up constantly until they turn into your customers. Reward the people who refer your products/ Brands & services with premiums, policies extension, and etc. word of mouth can easily connect with prospective buyers with less effort.
Insurance companies offer an array of products that covers various industries to meet their financial goals. Buying a vehicle is traditionally offline process though major of the dealers & distributors are the part of the online ecosystem.  So for sure people visiting nearest dealers, test drive & negotiate to take a decision though, they have done well research on the products. Hence it is important to establish a tie up with leading dealers of the local area when it comes to auto, car & two wheeler insurance. Similarly for healthcare insurance you must establish business relationship with a chain of hospitals & clinics which can be best source to produce quality leads on a regular basis.
Leverage Online Channels:
"The Internet is becoming the town square for the global village for Tomorrow" – Bill Gates
Internet is boon for every business. As we all spend ample amount of time online. It can be used for lead generation as well.The Next big question is HOW? There are 4.66 billion internet users worldwide as of October 2020. Hence there are millions of ways to engage with them & create brand visibility.
Start with GoogleMyBusiness Account:
Google is a giant place where people resort to find out any piece of information. So it can be a great place to target local audience. Within seconds, you can create account & showcase your offerings. Build online credibility by collecting reviews for the insurance schemes you promote.
Majority of people active on social media & connect in forums for QA sessions which can be utilized as a medium of prospecting.
For Ex: if a person asks questions like- Is XYZ is good choice car insurance or will it cover my Covid treatment if I choose  ABC medical scheme.
The respective user who requested such questions are considered as hot leads who must be engaged actively. By developing active conversation you can connect with them to know more about their requirements & showcase your marketing skills.
Use Social media for Advertisement:
Facebook, Twitter, Quora, Instagram & more are considered to be active social media platforms popular in the 21st century. Hence it is most powerful platforms to advertise your schemes by targeting various audiences based their age groups. Based on location ads can be customized as it defines your audience persona.
Partner with influencers:
Social media has the power to influence your followers if you reach, though leader in your industries. Influencer marketing is one of the popular sources for finding qualified leads & promote your polices. People trust influencers & there is a good chance of finding highly qualified leads.
Tips for Lead generation campaigns:
Use right lead generation tools
Creating attractive offers at every stage of buying
Involve your sales team at an early stage to brainstorm with prospects
Set stages for building relationship
Increase sales & ROI
With ever changing market, there are numerous methods for finding life insurance leads. And identifying the best depends on the individual agents, competitors & their market scope. By collaborating with a digital marketing partner it is possible to frame best lead marketing strategy & improve revenue channels.