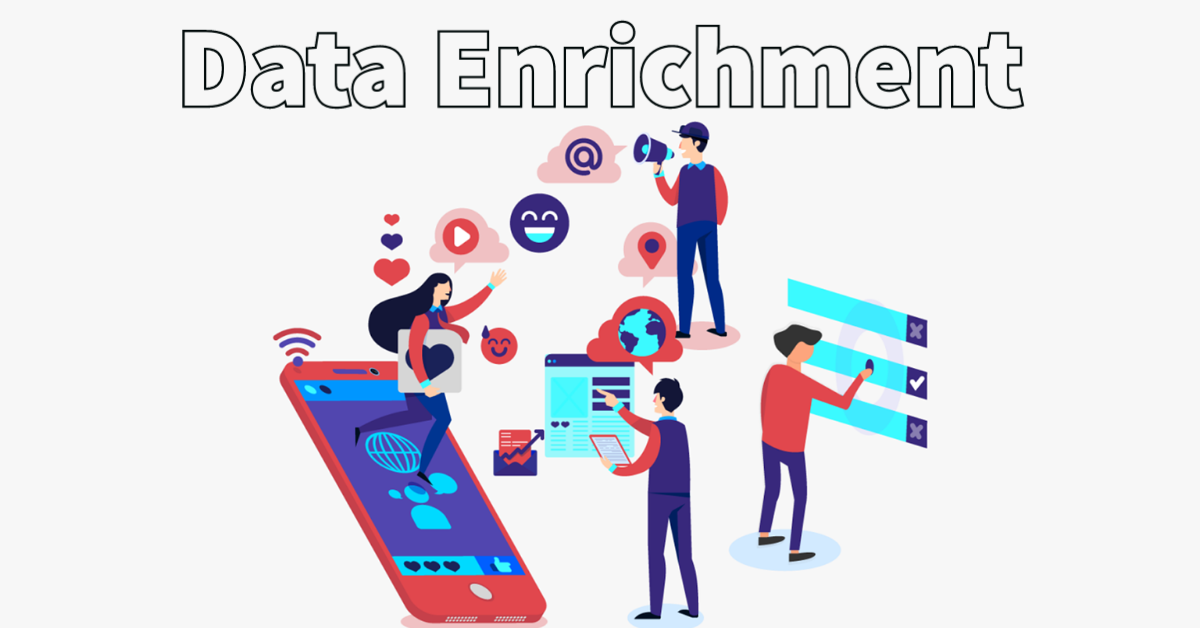 In today's competitive world, data has become the most valuable asset in every organization. Most of the business leaders across the world use data to empower their decision-making process and promote the growth and profitability of their companies. When it comes to b2b marketing, data plays a crucial role to formulate marketing, sales and customer service strategies.
As a b2b marketer, it is vital to know about your exact target audience to roll out more effective and modern marketing strategies. Having accurate data about your targeted audience can make your job easier. But it's not always easy to come across the right sets of data about your customers due to data decaying. And this is where data enrichment service comes into the picture.
What is Data Enrichment?
Data Enrichment is nothing but enhancing data with everything that you need to frame a successful marketing strategy including verified email address, telephone number, company size & type, postal address, annual revenue and more. This Data Enrichment helps you to drive leads and generate actionable insights for your sales and marketing success. Here, in the below image – you can see how data enrichment can update your existing contact data with new contact records while fighting against data decaying.
Types of Data Enrichment
No individual dataset can provide a complete and holistic overview of your ideal customers. Hence, you would need to merge multiple datasets into a single enriched source to correctly understand the customer base. When organizations around the world aim to introduce higher levels of personalization, the ability to integrate various data sources meaningfully gives them a powerful tool to enhance their services.
Although there are innumerable types of data enrichment and data collection techniques, there are two types of data enrichment services that are far more prominent than the others. Below mentioned are the two types of data enrichment services that you really need to know about.
Demographic Data Enrichment
This involves any type of data that enables you to identify your users more accurately. For instance, income level and marital status are both examples of demographic data. Combining demographic data with your customers' current data will allow you to take a clear picture of exactly who they are.
Geographic Data Enrichment
This includes adding details about the geographical position of your users. It could be things like ZIP codes and other postal records, coordinates of longitude and latitude, and home addresses. It is easy to come across geographic data since many companies exist to provide such information. Geographic data enrichment allows companies to offer a more personalized service.
Transform Your Marketing Strategy with Data Enrichment Service
In general, data enrichment is highly beneficial for your whole marketing and sales funnel as it enhances targeting, improves conversions, and much more. If you are thinking about improving your marketing strategy, here are some of the ways that data enrichment can supercharge your marketing campaigns:
Enhanced and accurate data
As discussed above, enhancing the data would open up new opportunities for your marketing campaigns, open new lines of communication, and enhance your targeting. Using data enrichment in combination with email verification can keep your enriched list clean, correct and accessible.
Improved lead scoring and segmentation
The more you know about your lead, the more accurate your lead scoring and segmentation would be. This process involves analyzing data such as location, demographics, business data, behavioural trends, etc., which is exactly what can be provided by lead enrichment.
Improved personalization and targeting
With data enrichment, it's possible to gain deeper insight about your customers including their demographic and behavioural data. This enables you to offer personalized offers and shopping recommendations that align perfectly with the needs of your audience. Data enrichment can give you all the necessary ingredients to can achieve higher open, click-through, and conversion rates while improving personalization and targeting.
Having more data on your customer's needs and pain points enables you to craft an effective lead nurturing strategy for each audience segment to convert faster and gain more loyal customers.
Enriching the data helps businesses to identify prospective customers and use the data of current customers to find new markets that complement their customers and make marketing more successful. Furthermore, it guarantees ongoing consumer engagement and nurturing, which might open up new market opportunities.
How to Choose The Best Data Enrichment Service Provider?
There are several important questions you need to ask when you are opting for data enrichment services, including:
Is the data enrichment service is compatible with your business needs? It's always recommended to check whether the enriched data is accessible within your existing CRM system.
How does the data enrichment service provider source new information? It's crucial to know about the sources that they use for compiling data as data enrichment service is only useful if the information is accurate.
How often is data updated? Some agencies offer real-time data enrichment, but others do not. Hence, it is important to choose the right data enrichment service provider that's right for your business.
Bottom Line
The majority of B2B marketing and sales strategies depend on customers' data. Yet, data is frequently inaccurate due to data decay. Collaborating with our data enrichment services enables you to get rid of incomplete, duplicated and outdated data that lies in your existing database. By combining state-of-the-art technologies and human intelligence, we provide you with comprehensive data enrichment services without compromising on data quality.
At Data Marketers Group, we have clearly understood that Data Enrichment Services is one of the most important steps in improving the value of your business data. Hence, our team first validate the contact data such as name, phone numbers, email and mailing addresses that you already have in your existing database. Once it is cleaned, we append missing or incomplete contact information and enhance your records with available data including financial data, geographic data, buyer inclination, and much more.