C-level executives are the highest-ranking executive personnel within an organization and are typically considered as the most powerful and influential members. These executives make high-stake decisions, set the company's policy, and make sure that the day-to-day business operations align with fulfilling the company's objectives. 
Hence, it is very important to have constructive interaction with these senior-most executives of those companies that are prospective clients for successful business development. Therefore, having data on these C-Level Executives help you to enhance your B2B marketing efforts. This blog explains how C-level executives Email List can be useful in rolling out targeted B2B marketing campaigns.
What is C-Level Executives Email List?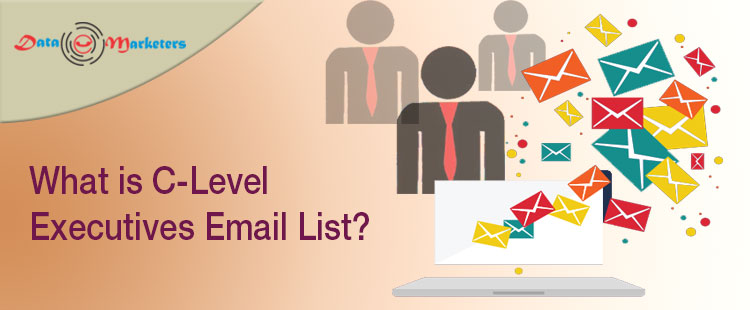 A C-Level Executives Email List is a collection of email addresses, mailing data and other contact information of various C-Suite professionals that are associated with companies of all sizes across the globe. Be it CEOs, CFOs, CTOs, CIOs and others, a c-level executives email list provides a single-channel communication route to connect with the all top C-level professionals.
In general, a C Level Executives Mailing List not only allows you to communicate easily with your targeted prospects, who are CEOs of leading organizations all over the world, but it also helps you to fetch guaranteed success for your b2b marketing campaigns.
What Are The Various Data Fields Included In C-Level Executives Database?
When you are trying to connect with C-level executives, either by email, mail or telephone, it is not enough to know just the name and email id. Most of the smart marketers collect huge amount of information about such executives before they are connecting with them. Let us look at three data points that a marketer might find useful with the help of c-level executives database:
Demographics – While age, gender, and job description can seem to be very basic information, they can be useful starting points for determining the content of C-level executive messaging.
Education – The educational history, as well as current academic interests, would be helpful in determining which marketing strategy would be most effective. This information can be obtained from LinkedIn profiles or news articles.
Other Interests – This is a factor which is often overlooked in terms of its ability to influence C-level executive decision-making. Such executives' social media posts provide a good indication of their preferences and thinking outside of their line of work, which can aid in determining the best form of messaging.
Let's See How C-Level Data Can Enhance Your B2B Marketing Efforts!
Most of the successful marketers spend a significant amount of time and effort in gathering C-level data. But, it's more important, to figure out how to make most out of that data. Let's look at how c-level data can enhance your b2b marketing efforts!
1. Start With Simple Requests
A successful email to a CEO or COO can be considered as a small achievement in and of itself. However, if the mail involves anything that requires a significant amount of time, resources, or manpower, it may be difficult to get an answer. A small request for the right person to contact, or a message of thanks for attending one of the events would be good enough to start the conversation.
2. Target The C-Suite And Buying Committee
When it comes to C-level data, most marketers concentrate on information about the executives. However, you should be mindful that, for the vast majority of these executives, their executive assistants manage their communications, travel plans, and appointments entirely on their behalf. They frequently serve as a gatekeeper, keeping unwanted intruders out, and they may be the reason why some or all of your communications go unanswered. That is why collecting valuable data on executive assistants and effectively using that data is crucial.
You may have acquired a wealth of data that will enable your marketing efforts. However, you can't afford to overlook another rich source of information: the executives' technical and personal networks. College mates, ex-colleagues, and even housing societies of places where the executives reside can all provide useful access to connect with these C-Level Executives.
4. Develop A Multi-Channel Strategy
To meet your business goals, you'll need to devise a plan that coordinates multiple channels in order to reach various people at the target accounts. You may contact the C-Level Executives and the buying committee in a variety of ways. Some of these ways are mentioned below:
Direct mails
Emails
Phone calls
Online advertising
Events
Social Ads
Web personalisation
The Benefits Of Owning A C-Level Professionals Email List:
A comprehensive and result-driven targeted C-level Executives Mailing List enables marketers to communicate with and pitch their sales messages directly to the appropriate authority.
The C-level Executives email database provides complete contact information about B2B C-level professionals. The data repository contains the following details about your targeted decision-makers:
First Name
Last Name
Gender
Email Address
SIC Code
Employee Size
NAICS Code
Phone Number
Fax Number
Postal Address
State
Web Addresses
It enables you to take advantage of qualified leads from top executives who are most likely to make a purchase and increase your chances of closing.
With multichannel data, businesses can market their products and services to C-level professionals that are located across the globe.
With reach-targeted C-Level Executives Email List, you can reach out to top-ranking executives in the corporate ladder via email, mail and telephone.
A C-Level Executives email list provides detailed contact data of c-suite professionals within an organization such as CEO, CMO, CIO, CFO, and more.
It enables you to connect with C-Level executives who are responsible for implementing strategic business planning, determining budgets, deciding business policies and overseeing daily operations.
With C-Level Executives Mailing List, you can target professionals who are responsive to marketing offers that improves the profitability and productivity of the business.
In the United States, the professional sector of C-suite employees has been one of the most widespread. With over 2,100,000 top executives employed, there is a plethora of opportunities for marketers wishing to engage with high-end clients. However, you'll need a highly relevant C-level executives email list to reach such a specialist group and establish a strong brand presence.
If you are a marketer looking for C-Level Executives Mailing List, then Data Marketers Group is the right platform for you. Our C-Level Executives database can be customized based on your requirements. Our team of data experts provides valuable information about the contact lists like name, address, email address, company, social media contacts, telephone number, mobile number, and many other required contact details.
To avail the most updated C-level executives Email list, reach us at Data Marketers Group.
Phone: 914 – 288 – 5888
Email ID: [email protected]